And they all lived happily even after….
---
Most of us assume a breakup or divorce will be a hostile, contentious experience, filled with fighting, animosity and unresolved resentment.
Yet it doesn't have to be this way.
Read these Conscious Uncoupling success stories to discover how, by engaging a few simple steps, your shattered happily-ever-after can be transformed into your sweet and satisfying happily-even-after.
---
---
Add your voice to the choir by sharing your own Conscious Uncoupling Success Story with us at the bottom of the page. We love hearing from you and will regularly post new success stories to help educate, uplift and inspire others to breakup better.
---
Our Story
---
When I first realized my ten-year marriage was ending, I was terrified. As a young girl I had been the product of a nasty and terribly unconscious uncoupling and the one thing I knew for sure was this: I was not going to do that to our daughter!
Yet, as our separation unfolded, I saw that I'd worried in vain. For not only was ours a kind uncoupling, but it was also filled with an unexpected spirit of generosity and goodwill, with gestures of friendship and mutual support woven throughout.
As much as I had yearned for a happy ending to my rather challenging childhood, in an odd twist of fate, I seemed to have stumbled upon a new kind of happy ending. A way to end a romantic union with dignity, goodness and honor, and where no one was left shamed or destroyed by the experience.
Once through it ourselves, I looked to see if I could decipher the rather unique way my former husband and I had transitioned out of our union. That inquiry led me to create the five steps of Conscious Uncoupling that could be engaged either by individuals going through a breakup, or by uncoupling couples to help them end their unions with dignity, generosity and grace.
As a believer in love, and an ardent supporter of long-term committed unions, I encourage couples to do everything they can to make it work before engaging a Conscious Uncoupling process.
Yet, when it becomes clear that a breakup is inevitable, I strongly suggest doing the program. Because in a world where more people divorce each year than buy new cars or eat grapefruit for breakfast, I think it's time we learn how to do this better.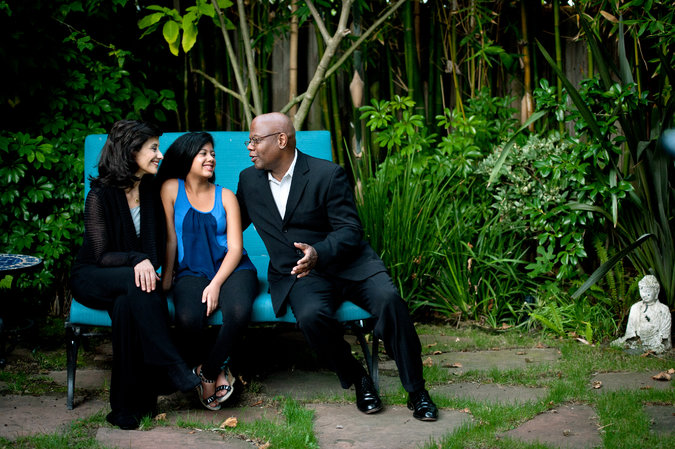 Author Katherine Woodward Thomas with her former husband, Mark Thomas and their daughter, Alexandria three years after their divorce
---
---
"The goal of a Conscious Uncoupling is not necessarily the restoration of justice, the attainment of restitution, or the vindication of being right. The goal of a Conscious Uncoupling is to be free."
—Katherine Woodward Thomas,
from Conscious Uncoupling: 5 Steps to Living Happily Even After
---
---
Read about how others have successfully
engaged the 5 Steps of Conscious Uncoupling
The photos on this page depict conscious uncouplings but are not the subjects of the stories.
---
---
Step 1: Find Emotional Freedom
---
Julia's Story
I was 4 months into the breakup process prior to beginning the Conscious Uncoupling program, and during that time, I suffered from deep depression. I couldn't get out of bed for days at a time and lost 25 pounds because I could barely eat anything. My whole body ached from the emotional stress, and I felt frail and vulnerable. After completing the first step in the process, I could feel the extreme tension in my body begin to dissolve as I took responsibility for my role in the breakup. I learned how to transform my heartbreak into a catalyst for making an unwavering commitment to myself.
Following the steps in the Conscious Uncoupling program, I transformed from my deepest breakdown to my most magnificent breakthrough. I now feel free, liberated and full of hope for a beautiful future in love!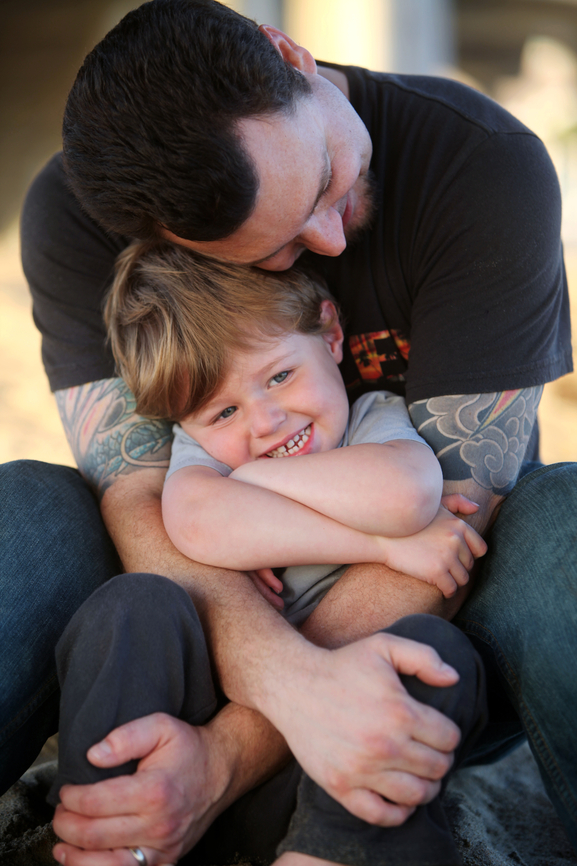 Val's Story
After my partner of 9 years moved out, I felt very unstable in my day-to-day life because there was a tempest of anger, fear and grief raging inside me. Moving effectively through all the strong emotions to get to the healing I desperately needed felt impossible. Thankfully, when I began the Conscious Uncoupling program, I quickly learned how to harness my emotions and use them to propel me to a new mindset of curiosity about how much more fulfilled my life could be.
Without the Conscious Uncoupling program, I think it would have taken me much longer to get where I am now and the healing might not have been so thorough. I would probably still be in the throes of grief, self-pity and despair, rather than turning my face to the sun and preparing to blossom in a number of new areas, including love and relationships.
---
Step 2: Reclaim Your Power and Your Life
---
Ingrid's Story
My husband and I were married for 35 years and ran a successful restaurant and skate shop together during most of that time. Yet at the 30-year mark, things began to unravel. My husband stopped enjoying the business, started treating employees badly and using marijuana to tune out. I tried to hold on, but in the end we lost our business, got divorced, had to sell our house and lost $500,000. I was angry and hurt and I hated him for abandoning me in our time of need.
Yet, once I became willing to stop blaming him and tried instead to see my part in what had happened, my feelings of anger waned as I began to understand how my fear, negativity and chronic nagging had contributed to everything that happened, and all that we lost. I was finally able to forgive him when I recognized how much I had been hyper-focusing on his darkness, rather than seeing his light and the many positive qualities he brought to our relationship.
Now five years later, I am with a new man and I make it a daily practice to look in the mirror and take responsibility for the success of my life and my new business, rather than blame anyone for what they are, or are not doing. I also now make it a habit to see and appreciate the best in people, especially during the hard times. For the first time in my life, I feel empowered and free, both in my career and in my love life, which is blossoming and overflowing with happiness!
Bradley's Story
I started dating my high school sweetheart the summer before tenth grade and we were together for a little more than a year. We always had very open communication with each other and shared many special moments.
The day she broke up with me, she sat me down, asked me to be level headed and told me she felt we were taking our relationship a little too seriously for our age, and she really wanted to be a teenager while she still could.
I remember leaving her house with my heart feeling shattered, fighting back tears as my mom drove me home. The next couple months at school were hard since we had classes together.
Over time, though, I started to appreciate what I learned in our relationship. My former girlfriend taught me how to hold space for someone to share their feelings and listen without reacting – a practice that I have carried into every relationship since.
We are still friends to this day and we give each other relationship advice with the genuine intention of helping each other succeed. I now feel confident in the communications skills and self-awareness I learned in that relationship that will help me to have even better relationships moving forward.
---
Step 3: Break the Pattern, Heal Your Heart
---
---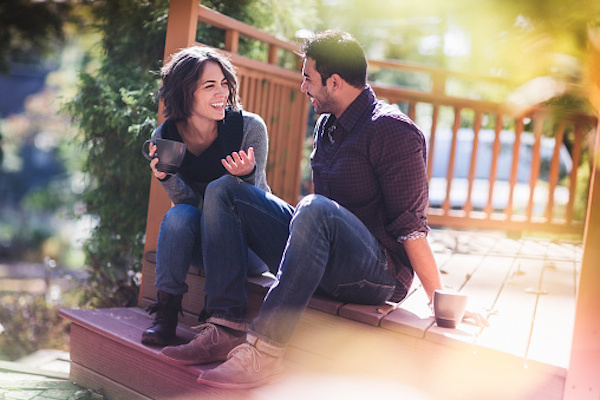 Marlena Story
I've been divorced for 16 years, and I have spent much of that time trying to find out why I fell so far short in love, not only in my marriage but in other relationships I was in after my divorce, as well. Through Conscious Uncoupling, I was able to take a hard look at my feelings of anger and resentment, and I discovered that the struggles in my romantic relationships were a direct reflection of my old wounds.
Deep down inside, I saw that I'd been holding onto the belief that I wasn't worthy of the kind of love I desired. Once I saw my beliefs clearly, I could reframe them and replace my negative thoughts and emotions with forgiveness for myself and others, and begin a practice of gratitude for all that I was and for all the many blessings that I did have. I even phoned my former husband and we shared a pleasant and loving conversation after being estranged for years.
A few months later, I set the possibilities I held for love in motion by writing a very clear description of my ideal partner that I posted on an online dating site. That same day I was invited out by a man who fit the description of my perfect match, and we have since gone on to co-create a beautiful, happy, healthy committed partnership.
I am in this amazing space because I took the time to heal my wounds and prepare myself for the love I both desire and deserve to have. I finally own my power and beauty. And I had the courage to declare to the Universe my desire to find my partner, and took concrete action that was consistent with my intention in order to attract the partner of my dreams into my life!
---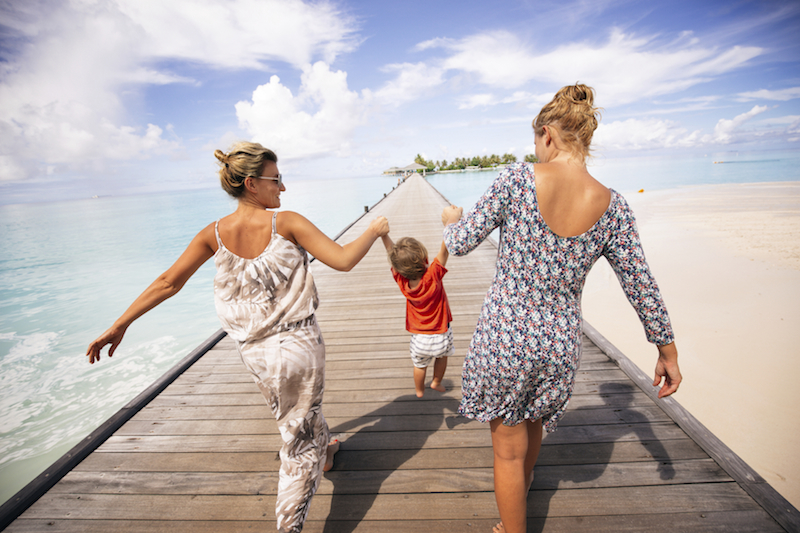 Nancy's Story
Eight years after my marriage ended, I was still stuck with feelings of resentment, a sense of unfairness, a loss of faith in the Universe, headaches, sadness and grief over the loss of my family. I had quite a few relationships where I repeated the same issues that ended my marriage – similar choices of narcissistic and wounded men, similar codependency patterns in the ways I trying to help them, with similar disappointing results. I believed for the longest time that if I remained positive and ignored my feelings, I would find a partner who would help me heal.
When I did the Conscious Uncoupling program, I learned for the first time how to take responsibility for my own role in my relationships and breakups without blaming my partner. I began to unlock stuck patterns and beliefs from my childhood about my poor sense of self-worth, and this has helped me set better boundaries and speak my truth without apology. The Conscious Uncoupling program gave the tools and insight to create astonishing breakthroughs in my career and relationships!
---
Step 4: Become a Love Alchemist
---
---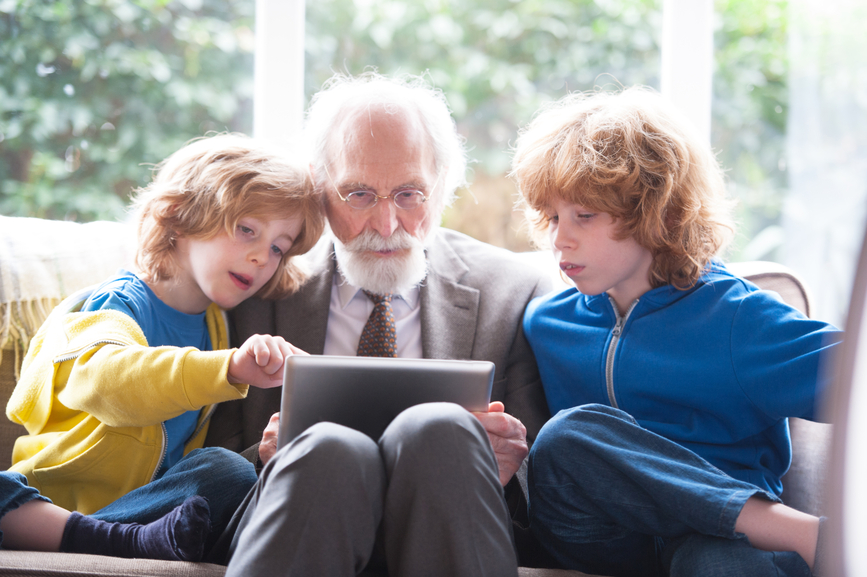 Stacey's Story
Five years ago, my former husband and father of our two young adult sons, and I made a conscious decision to mindfully and lovingly end our marriage. Keeping our relationship friendly and healthy was of utmost importance to us. From the beginning of our separation, my former husband stepped up as a true love alchemist, expressing his generous and open hearted intention:
"I want our kids to see a different model of how relationships can end; that it does not have to be a battleground filled with animosity. I want them to learn from our example, in their own adult intimate relationships, that it is possible to breakup with kindness."
His genuine words were one the greatest gifts he has ever given our children and me, and they created space for me to perform my own alchemy.
A few years after our breakup, my former husband fell in love with a wonderful woman, and she and I formed a lovely friendship bonded by our mutual love and respect for him. When the two of them decided to marry, I took her shopping for her wedding dress and hosted their wedding reception with our mutual friends, children and family members.
It was a beautiful celebration for my former partner and his new wife, as well as for our children and myself as we co-created a new type of family. True to our intentions, I feel so blessed that my former husband continues to be my strongest supporter and best friend, and that our kids and his new marriage have thrived in the process!
---
Lynne's Story
My former husband and I were married for 18 years and together romantically for 21 years. We met when I was 25 and he was 27. He felt familiar to me from the day I first met him – we have a real "soul" connection. I grew up a lot during my years with him, and he encouraged me to follow my heart in my career path.
As the years went by, having never been on my own in my life, I began to feel a strong desire to spread my wings. When my mother passed away, I moved to a new city prior to my husband arriving. Living alone there, I experienced a sense of freedom I had never felt before to make my own choices; the feeling invigorated and strengthened me.
When my husband arrived two months later, we were bickering a lot and one night over dinner, I suggested maybe we shouldn't be married anymore. We decided to complete our marital relationship with a bittersweet and very loving ceremony.
We both cried, held each other, and agreed to release each other to love another. We were love alchemists in the sense that we set the intention together to change the form of our relationship from marriage partners to family members. We have spent every Christmas together for the last 34 years, and his new wife and I have become great friends. I now live nearby to them so I can be an honorary grandmother to their 8-month-old daughter. I feel so blessed that we have been able to co-create such a beautiful new form of family!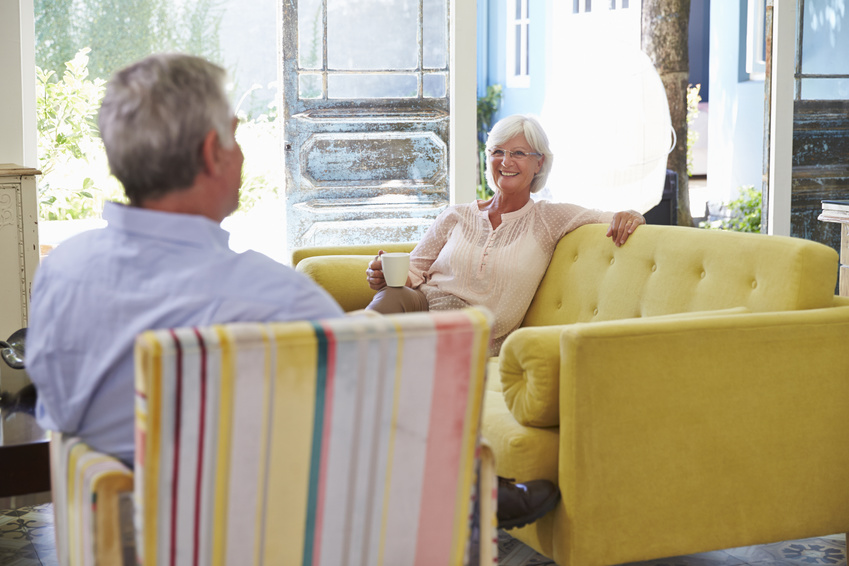 ---
Step 5: Create Your Happily Even After Life
---
---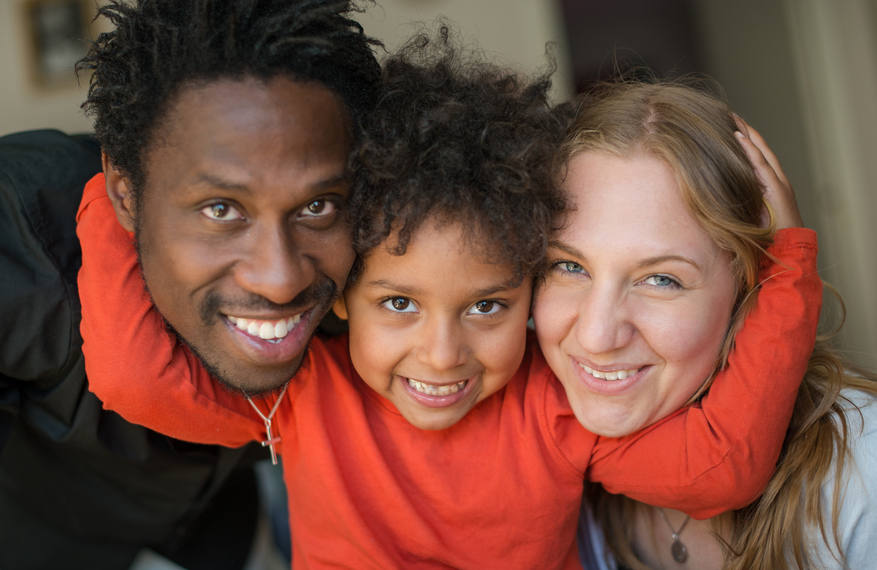 ---
Sefora's Story
My boyfriend and I were together for many years before we decided to uncouple. While we still had a great deal of love and respect for each other, we recognized we had grown apart as a couple.
To help ease the transition out of our romantic partnership- both for ourselves and for our community, we hosted a breakup party. We invited all our family and friends over, talked to them with clarity and love about our decision to breakup, and showed appreciation for each other in front of the group. Then we played breakup songs and danced with everyone, celebrating the end of our union. The party helped create a sense of well-being in our close community and modeled for our family and friends promising new possibilities for a joyful life after our breakup.
My former partner and I shared many vulnerable and challenging moments during our transition, but we were able to talk through each of them with love and maturity. Our party set the tone for a truly healing breakup experience, surrounded by the continued support of our community!
Rebecca's Story
Living in Istanbul Turkey, I had been feeling restless and unhappy in my marriage for a couple of years. When I finally summoned the courage to tell my husband I wanted a separation, he was angry and threatened if I returned to the United States, he would keep our two young daughters. He eventually seceded his position, and I left with my daughters, never returning to Turkey to be with him.
During the years that followed, my former husband provided for my daughters in every way – medical, education, necessities and extras. Though I was afraid he would keep our girls in Turkey if I let them visit their father, I knew in my heart that the right thing to do was to let them go. Initially, I prayed on the decision and the answer that kept coming back was to trust in him. Because of this, I gave our daughters permission to visit him and our Turkish family multiple times every year.
Our daughters, now adults, remain close to their father and have built joyful lives and romantic partnerships for themselves. I believe that their relationship with their father was foundational in their success and happiness in life.
I am grateful I was able to transform my fear into trust during the most difficult time in our lives and in turn, he had the capacity to rise above retribution and anger out of love for our daughters. In the end, our belief in the power of love set us free to create flourishing lives for all four of us!
---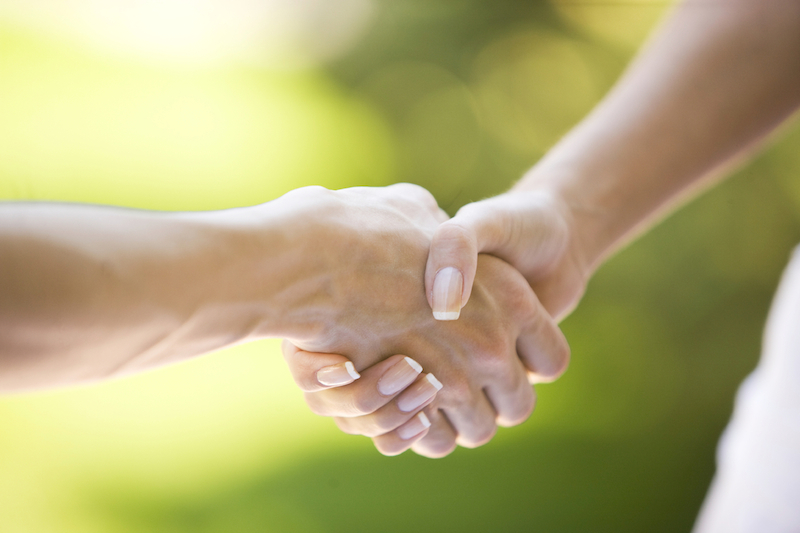 Carolyn's Story
Seven years ago I married an amazing man who was divorced and father to a 5-year-old daughter. I knew being a stepmother would mean earning the respect and love of his daughter, and showing her mother and stepfather that I would be a good stepmother to their daughter.
It wasn't easy at first because my husband's divorce had been rocky and there were raw emotions on all sides. Over time, however, our families began to build trust and could negotiate healthy boundaries built upon a shared commitment to caring for our little girl.
Focusing on creating stability for everyone, we all committed to treating each other with dignity and respect. My relationship with my husband grew strong as together we created structures that allowed our daughter to have access to all four of the adults who loved and cared for her.
Two Christmases ago, when my stepdaughter's stepfather was deployed for several months, my husband and I invited her mother and half-sister to spend the holidays in our home so our daughter could celebrate Christmas with her whole family under one roof.
Every day brings new challenges, but we are working together to raise compassionate, stable children who understand the power of unconditional love, self-responsibility, respect and kindness. We are truly co- creating a happily-even-after life for us all!
---
Send us your Conscious Uncoupling success story.
Share with us what it was like, what happened and what it's like now.
Include the specific Conscious Uncoupling distinctions, exercises or step that most helped you.
We will post new stories on a regular basis.
Thank you!