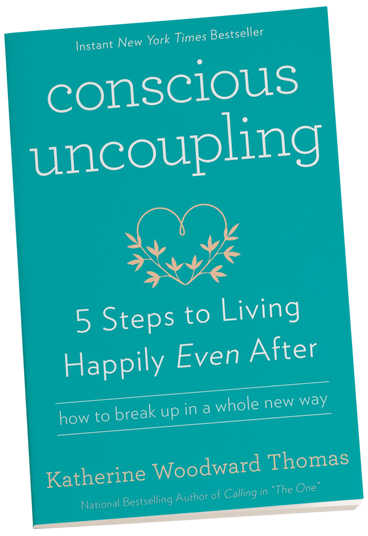 Instant New York Times Bestseller
5 Steps to Living Happily Even After
Marriage and family therapist Katherine Woodward Thomas  forges a new path for anyone who is in the midst of a breakup, still suffering with unresolved grief from a past breakup, or anticipating a breakup in the future.
About Conscious Uncoupling
After the success of her national bestselling book, Calling in "The One": 7 Weeks to Attract the Love of Your Life, marriage and family therapist, Katherine Woodward Thomas, was devastated when she and her husband decided to end their marriage after nearly 10 years. After witnessing many difficult divorces that were not only hard on the couple but on their family and friends as well, Thomas and her husband decided to try a different approach; one that took into account what they'd once meant to each other.
Through her own experience, Thomas realized that she could help others. So she set about determining the steps they had taken to successfully get through the process in a civil and healthy way, and the Conscious Uncoupling process was born.
In Conscious Uncoupling: 5 Steps to Living Happily Even After, Thomas promises a new way to end a failing relationship that isn't bitter and needlessly painful but is instead characterized by goodwill, generosity, and mutual respect. Instead of feeling that time spent in a relationship was a big mistake or a waste, each person in the relationship can honor their past together. With its precepts, individuals learn how to do minimal damage to themselves, each other, and their families—and promote healing and wholeness instead.
5 Steps To Conscious Uncoupling
» Step 1: Find Emotional Freedom
Readers learn to harness the energies of the dark and difficult emotions they may be experiencing, such as rage, hatred, fear, and despair, and transform them from destructive impulses to hurt themselves or others into constructive drivers of positive change.
»Step 2: Reclaim Your Power and Your Life
Readers learn to let go of being a victim of love, and shift their perspective to begin taking personal responsibility for their part in what happened. By doing this, they begin to see how they have been a source of their own suffering in a way that frees them from repeating the dynamic again, and empowers them to evolve beyond disappointing patterns in love.
»Step 3: Break the Pattern, Heal Your Heart
Readers identify their "source-fracture story," and start to understand how it's been the underlying cause of their disappointing patterns in love. Readers will learn to acknowledge that their painful patterns in love have not simply been happening to them over and over again, and instead begin to distinguish exactly how these patterns have been happening through them, giving readers the power to evolve beyond them.
»Step 4: Become a Love Alchemist
Readers begin to see themselves as capable of generating a positive future for themselves and everyone impacted by the breakup, no matter how hurtful or hard things have been until now. They will also be given the tools and techniques they'll need to remove and repair any residue of hurt and festering feelings.
»Step 5: Create Your Happy Even After Life
Readers are supported to make wise, healthy, and life-affirming decisions as they take on the essential tasks of reinventing their lives, and setting up vital new structures that will allow them and all involved to thrive after this transition. By offering an alternative to antagonistic and hostile separations, Conscious Uncoupling makes a very difficult time in anyone's life, a bit easier to bear and promises a much brighter future in any new relationship.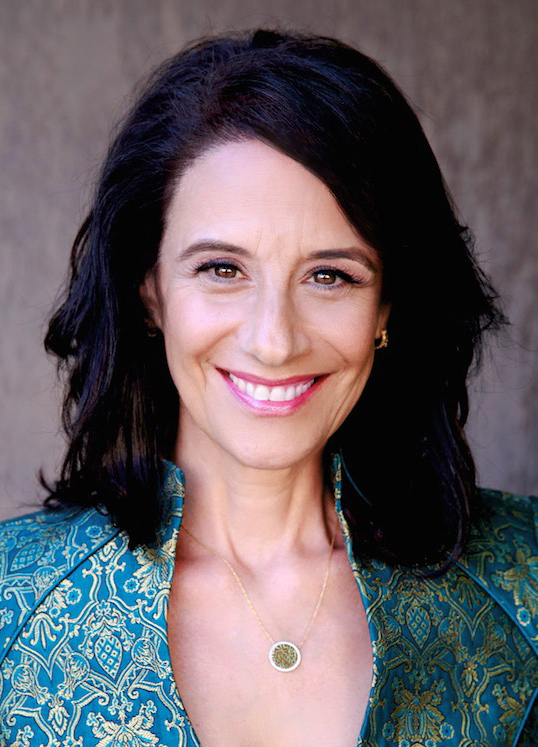 Katherine Woodward Thomas, M.A., MFT, is the author of the New York Times Bestseller Conscious Uncoupling: 5 Steps to Living Happily Even After which was nominated for a Books for a Better Life Award, and the National Bestseller, Calling in "The One:" 7 Weeks to Attract the Love of Your Life. She is a licensed marriage and family therapist and teacher to thousands from all corners of the world in her virtual and in-person learning communities.
Katherine is the originator of the Conscious Uncoupling process made famous by Gwyneth Paltrow and Chris Martin. She also created and teaches the Conscious Uncoupling Quest delivered by the online transformational educational giant, Mindvalley. 
To date, Katherine has trained and credentialed hundreds of people as Certified Conscious Uncoupling Coaches and as Certified Calling in "The One" Coaches.
Katherine has also had the honor of being interviewed by Maria Shriver on her infamous Architects of Change series, a main stage speaker at Lewis Howes Live Summit of Greatness Annual Conference, and has been privileged to share the stage with Alanis Morissette, Marianne Williamson, Neale Donald Walsch, Jean Houston, Mary Manin Morrissey and other extraordinary teachers.
Her life-affirming and highly transformative teachings been featured on The Today Show, as well as in The New York Times, Time Magazine, The Wall Street Journal, The Washington Post, The London Times, People Magazine, Women's Health and many other media outlets throughout the world.
"With all of the darkness you may be walking through, it's good to remember that where there is no light, you have the choice to become it."
~ Katherine Woodward Thomas
Katherine has been interviewed by major news and media outlets, including:

Praise for
Conscious Uncoupling
"In eight words: Conscious Uncoupling is divorcing without being a jerk. The leader in Conscious Uncoupling, Katherine Woodward Thomas, described her own divorce as an 'incredibly loving, caring and contained experience."
~ New York magazine
"What the heck does 'conscious uncoupling' mean? The term was coined by a Los Angeles therapist and author, Katherine Woodward Thomas, who has created a five-step Conscious Uncoupling online process."
~ The Washington Post
"The split between Gwyneth Paltrow and Chris Martin is getting more attention for the way it was described— conscious uncoupling—than the split itself. Katherine Woodward Thomas coined this now-famous phrase."
~ Savannah Guthrie, The Today Show
"I read the book. Oh my God, it is good. It felt like six sessions with an excellent therapist. It unearthed some deep stuff that will change the way I am in relationships in the future."
~ Red Magazine